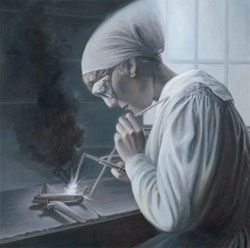 There is a particular logic inherent in Murphy's conjunction, one based on visual punning and the slightly too bright, almost halated quality of her tonalities. If this is dreaming, it is lucid dreaming, a knowing exploitation of the dream state by Murphy to provide her and us, with images and sensations of improbable freedom and thrilling or hilarious juxtaposition.
- Peter Frank, Curator and Art Critic, Los Angeles
© 2005-2019 ADLER & Co.