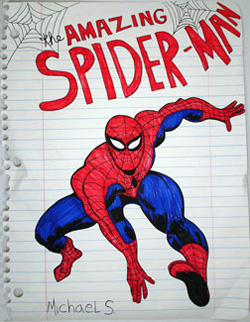 D3PROJECTS at Bergamot Station
celebrates
the opening of its space with a special
Michael Scoggins Exhibition
in partnership with
ADLER & Co. GALLERY of San Francisco
July 21 - August 31
Show extended through September 10, 2007.
ADLER & Co. GALLERY
of San Francisco is proud to present a special exhibition of new work by artist
Michael Scoggins
. Scoggins' award-winning work has been exhibited throughout the United States and Europe, and is included in the permanent collection of the Museum of Modern Art, New York. The Artist holds an MFA in painting from the Savannah College of Art and Design. ADLER & Co. GALLERY maintains an ongoing exhibition of Scoggins' work at its 251 Post Street location in San Francisco. This special showing in Southern California will celebrate the launch of the exciting new experimental art space,
d3projects
at Bergamot Station in Santa Monica. The Grand Opening reception will be held Saturday, July 21, 4- 8pm at the d3projects' Gallery location, and is by invitation only (please call the gallery for details). This inaugural exhibition will continue through August 31st. Admission to the gallery is free and open to the public. Gallery hours are: 10-6 Tuesday - Saturday.
The exhibition will feature a new group of Scoggins' striking compositions on paper. The Artist's "canvas" is, in fact, a large notebook sheet, complete with spiral bound edges and hand drawn blue lines, which he offers up wrinkled and dog-eared. It is a universally familiar image which he now elevates to a monumental 67 x 51 inches. He enlarges the sheet, creates a new perspective for us, and in the process, imbues the familiar images with a new sense of importance. He demonstrates vividly, and in heroic scale, how he is affected by American popular culture and world events, and how those forces have shaped all our lives. Scoggins infuses his unique works with a tactile component. He selectively tears, crumples and folds the sheets, giving the images a sense of history as he simultaneously establishes the works themselves as objects, expanding the definition of traditional drawing.
In the tradition of the great Pop and contemporary artists, Scoggins redefines the ordinary and familiar, composes a new vision, and, in the process, creates for the viewer an icon for the 21st century. As simple as it is sophisticated, his work is accessible, edgy, provocative andů.witty, in an often sinister, way. Scoggins takes on the world like a kid in the schoolyard of life.
Scoggins' bigger than life works, combine elements which pull on our collective memories and heartstrings. The works are emotionally charged - they make us laugh, they fill us with feelings of nostalgia or melancholy, while some make us angry and frustrated. The emblematic examples of the artist's oeuvre on display at d3projects will make us sit up and take notice, think and respond, and most certainly provoke deliberation and discussion.
d3projects, Bergamot Station, Santa Monica:
Created in June 2007 as an experimental art project, d3projects is a functional gallery space. A venue for contemporary art and photography, this innovative art space will also provide a forum as an evolving creative interactive artistic environment. d3projects groundbreaking gallery is located at 2525 Michigan Avenue, Bergamot Station, Santa Monica, CA.
ADLER & Co. GALLERY, San Francisco:
In addition to exhibiting the works of the finest modern and contemporary artists, ADLER & Co. provides a full range of consulting services to private, corporate, and institutional clients. Located at 251 Post St. Suite #510, just off Union Square in San Francisco, CA, ADLER & Co. is proud to be an exhibitor in the Los Angeles Art Show at the Barker Hanger. The Gallery has loaned works to the Guggenheim Museum in New York, and has exhibited a wide range of contemporary and modern artists that includes David Hockney, Jasper Johns, Vassily Kandinsky, Elizabeth Murray, Hilla Rebay, and Wayne Thiebaud. Gallery hours are: 10-6 Tuesday - Saturday, and by appointment.
Opening reception for the artist : Saturday July 21, 2007, 4-8 pm
Artist will be in attendance (by invitation only, please call gallery for details)
© 2005-2019 ADLER & Co.